Portfolio Managers Comment - May 2022 – Fixed Income – ARCIPELAGOS MAC AM CREDIT SELECT UCITS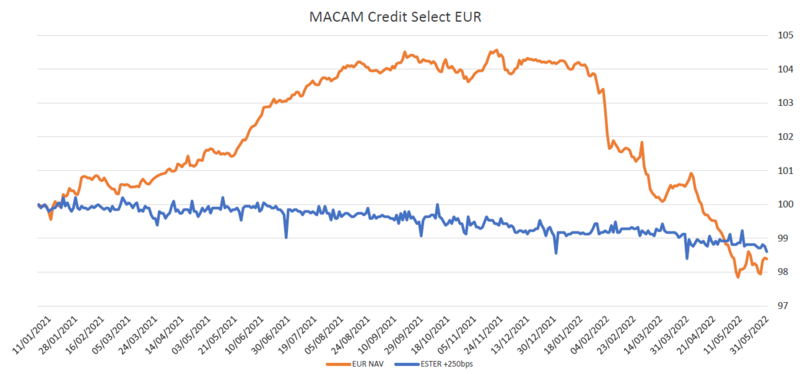 Our Fixed Income management based on the primary market generated a negative performance of 0.44 % in May, bringing the negative net performance of the fund to 3.44% over 1 year.
On the 4th of May, the FOMC announced a 50bps rate hike, bringing the Fed Fund Rate to the range of 0.75%-1%. The monetary policy decision has fallen into the market consensus. The FOMC has also announced the guideline to reduce the Fed's USD 9trillion balance sheet starting in June. The economic data are mixed, the April CPI (YoY) has recorded 8.3%, higher than forecast. Meanwhile, the 2022 Q1 GDP has recorded at -1.5% (QoQ). The Fed minutes released in late May revealed that the officials had discussed more aggressive rate hikes, moving the policy from "Neutral" to "Restrictive" territory, depending on the outlook and risks to the economic outlook. Traders are betting the fed fund rate will reach 2.5%-2.75% by the end of the year.
In the Euro Zone, the May CPI (YoY) was recorded at 8.1%. German, Italian, and French May CPI (YoY) all beat the estimate, recoding 7.9%, 6.9%, and 5.2%. The ECB president C. Lagarde was under pressure to withdraw the loose monetary policy to tackle inflation in the Euro Zone. She has signalled the negative rates will end in the near future.
The Bank of England announced the fourth rate hike in early May, bringing the Bank Rate to 1%. Revealed In the minutes of the monetary policy committee meeting, the central bank is concerned about the potential recession in the economy. Although labour market is strengthening in the U.K. economy, real disposable income fell. Some sign of stagflation has started to show in the economy, with April Core CPI recorded at 9% on a YoY basis. The Bank of England is concerned about the possible recession due to high energy prices and inflation
In May, we further reduced the duration of the portfolio by investing in bonds that have short maturity and attractive yield to reduce exposure the market fluctuation. We remain in a high cash position as we believe the risk premium for the new bond issuances will be more attractive.
Benefit from this strategy
Our strategy is to take the premium in the new bond issuances and hold positions on bonds that have good potential. The strategy analyses the macroeconomic environment, identifies, and adjudicates market opportunities in the primary market intending to generate absolute performance uncorrelated to the markets.
To benefit from this strategy in your investments, please subscribe to our UCITS1 Fund started on January 04, 2021.
EUR Share Class : LU2095273590
USD Share Class : LU2131342482
For more information, do not hesitate to visit the dedicated page or to contact us directly.
P: +44 (0)20 3750 9971
M: info@mac-am.co.uk